THE SOLUTION
PROVIDE THE MOST EFFICIENT, SAFE AND RELIABLE SOLUTION FOR YOU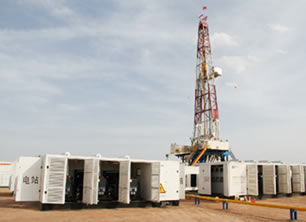 Power Solution For Electric Drilling Platform
The gas generator set for electric drilling rig is the only product that meets the needs of the electric drilling rig.
Power Solution For Electric Drilling Platform
In the remote area, diesel gensets are usually installed to solve the problem of power shortage. But due to the rapid rise of price and serious pollution to the environment, an increasing number of users are willing to use gas gensets to power the drilling platform, in an effort to reduce operation costs and protect the environment.

Working Principle
For our power solution for electric drilling platform, 6 to 22MPa natural gas is introduced in to the decompression skid from the CNG tanker and then reduced to 0.4 to 0.9MPa. After decompression, the natural gas will go into the gas genset through the buffer tank. Then the operator can start 4 sets of AMICO gas gensets to parallelly generate and power 600V/50Hz electricity for the drilling platform.

Project Working Principle Drawing 1

Project Working Principle Drawing 2